Dr. Patricia Peynado-Boyce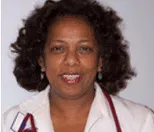 Dr. Patricia Peynado-Boyce was born and raised in Jamaica. She completed a Certificate in Medical Technology and a Diploma in Microbiology before moving to the Washington D.C. metropolitan area where she attended Howard University and graduated Magna Cum Laude with a B.Sc. in Microbiology in December of 1984.
After a few years of working as a teaching assistant in the microbiology department at Howard University and as a veterinary assistant at a local animal hospital, Dr. Peynado-Boyce decided to pursue her lifelong dream of becoming a veterinarian.
As a veterinary student at Tuskegee University, Alabama, she tutored microbiology and received several awards, including the Regional Veterinary Women's Auxiliary Association and the IAMS Nutrition Award. She further excelled and graduated in the top 10% of her veterinary class. Dr. Peynado-Boyce's veterinary interests include dermatology, internal medicine, and geriatric medicine.
Married with two daughters and a dog, Dr. Peynado-Boyce still finds spare moments for hobbies and sports. She is an avid tennis fan, enjoys people, gardening, and traveling, especially to Jamaica.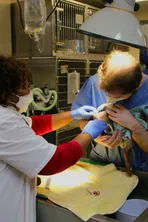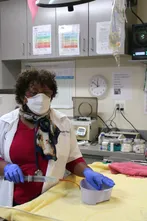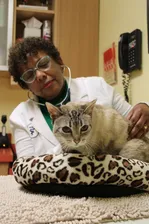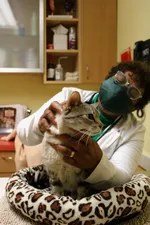 Fun Facts about Dr. B
Favorite Hobbies...

going to tennis tournaments and traveling

Favorite Dog Breed...

loveable mutt

Spirit Animal...

horse

Favorite Song...

Three Little Birds (Don't Worry About a Thing) by Bob Marley

I can't live without...

her truthful self, cheese, coconut water (right from the source)

Ideal Vacation Destination...

Old cities because I love grand doors
---
Dr. Tannis Johnson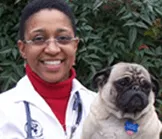 A graduate of Paint Branch High School in Burtonsville, MD, Dr. Tannis Johnson attended Tuskegee Institute where she received her B.S. Degree in Animal Science in 1981.
After spending four years in Tuskegee, AL, Dr. Johnson decided to continue her veterinary education at the same university. She was admitted to the Tuskegee University School of Veterinary Medicine and was awarded her DVM degree in 1985. Dr. Johnson is a general practitioner with a special interest in geriatric medicine and dentistry. Along with her veterinary interests, she is an active member of the Unity Church in Washington, D.C. Not forgetting her Alma Mater, she is also quite active in the Tuskegee University Alumni Organization.
Outside the veterinary hospital, Dr. Johnson is kept pretty busy caring for her pugs (Kindred, Booker T, and Maximillian), Doberman Pinscher (Madison), and Bullmastiff (Jazz). Even with her busy schedule, she still finds time for sports. She enjoys cycling and weight training.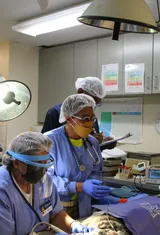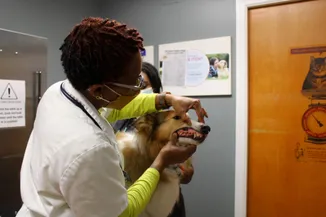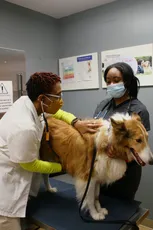 Favorite Hobbies...

spinning, working out, golfing

Favorite Dog Breed...

Rottweiler, pugs, mutts

Spirit Animal...

bear

Favorite Song...

Flashlight by

Parliament

I can't live without...

salmon, funk music and her blue ink pens

Ideal Vacation Destination...

Aruba